Actor Dominic Pace has had the type of career that would be the envy of any working actor. He has been in entertainment for over 20 years and has over 100 TV and film appearances. Dominic has secured challenging roles in projects that run the gamut from the gritty and raw to the funny and fantastic.
You might know the imposing-looking White Plains, NY native from his memorable turns on small screen hits such as "Angel", "NCIS Los Angeles" to name a few. His motion picture credits include the soon-to-be-released sociological thriller "Anonymous Killers", the horror feature "Psychosis" (Tyler Mane, X-Men/Halloween), and previously, the star-packed crime thriller "The Midnight Man" (Vinnie Jones, William Forsythe, Doug Jones). He recently appeared in "9-1-1" on Fox and has an upcoming role in the series "Deputy", a new show which will premiere on Fox in January.
As proud as he is of all the roles he has played, one holds special meaning. In fact, it is the culmination of a boyhood dream.
Remember being mesmerized with a movie as a child? Once you saw it, you had to have every movie-related toy and piece of merchandise that hit the stores. You and your friends spent your free time reenacting the scenes that you all knew by heart. Lying in bed at night, you would relive your favorite parts. You couldn't get enough of it.
Dominic Pace is one of those people. Like most kids of his generation, Dominic grew up loving Star Wars. In fact, he was obsessed with the series of movies that redefined science fiction. "Whether it was the light switch in the bedroom, the bedsheets, the Halloween costumes, birthday parties, Christmas presents, action figures or playsets, Stars Wars fueled the imagination as it inspired optimism and hope," Dominic says.
In 2018 a makeup test allowed Dominic to realize his childhood dream, playing a featured role in the Star Wars based television series "The Mandalorian". It reconnected him to the universe he loves.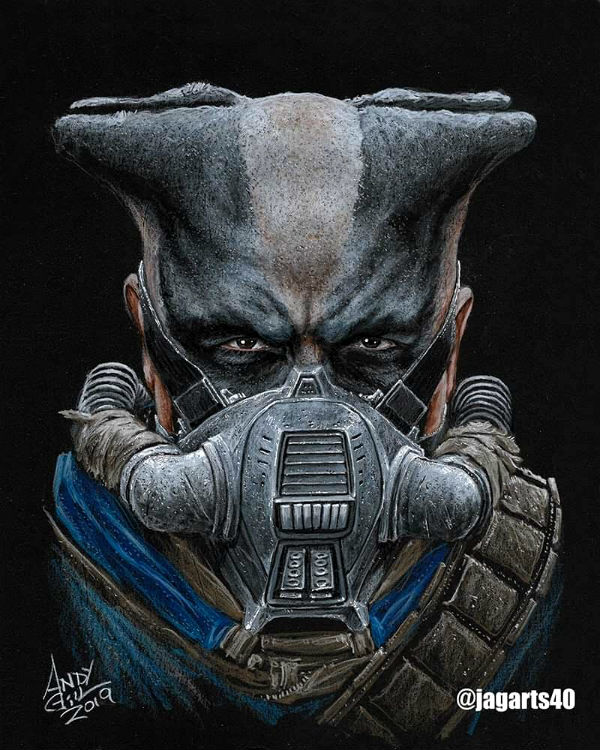 "The Mandalorian" picks up five years after the fall of the Empire and focuses on a bounty hunter who operates on the outskirts of the galaxy. The series features some heavy hitters who are making their first foray into the world of Star Wars including Oscar-nominee Nick Nolte, director/actor Werner Herzog, MMA fighter turned actress Gina Carano, Carl Weathers (Apollo Creed in the "Rocky" franchise, and 'Breaking Bad" villain Giancarlo Esposito. Dominic plays the original role of a bounty hunter. He may not share much screen time with his famous costars but he is thrilled to be part of the franchise.
"Thank you so much to Legacy Effect's Brian Sipe, costume designer Richard A Torah, director Deborah Chow, George Lucas, David Filoni and Jon Favreau. This was a dream come true."
"The Mandalorian" has just premiered on Disney + November 12
My interview with Dominic Pace:
Shawn Martin: Obviously, Star Wars had a big impact on you. When did you first become aware of the franchise?
Dominic Pace: I was 5 years old. My mother was a single mom raising my sister and me in Ossining, NY which is about 40 minutes north of New York City. I had the Cantina Playset and my mom got me all of those interesting Side Characters. Hammerhead, Walrusman, Greedo, Snaggletooth, etc.. The intricacies of each character, combined with the music of John Williams really drew me to the franchise. Even to this day, there was nothing quite like being 6 years old and watching The Empire Strikes Back on the big screen with a packed audience. It was bigger than life. There was just something magical between the musical score, and the story that pulled at your heartstrings, and it still does today. It was not only about a fantasy in space, but many parallels to life. Believing in yourself, family dynamics, and just the overall visual joy of it all. The characters, the ships, and the weapons. What's not to love?
SM: Who was your favorite character as a child? The mystery and coolness of the Boba Fett costume really stood out for me. Even his Slave 1 spaceship design was so cool. My mother did such a good job of getting me these figures and ships. I was always appreciative and grateful that she would try and find the hard-to-get figures or playsets. I spent hours in my room with the sets and figures. I was grateful to grow up in a time before the smartphone. I don't fault the younger generations, as I would've been on my phone as well, but I'm very grateful I had those years of escaping through toys or a book.
SM: Did you ever imagine you would be playing a character in a Star Wars related project?
DP: To be honest I lost hope as most of the Star Wars productions are filmed overseas. Fox built studios in Australia for the Prequels, and the newer ones seemed to be floating around England and all of Europe. Unless you're a big star name, it is almost impossible to receive a side character role where they would fly you to another country to film. It was a secret what was being filmed until I went in for a fitting at the studio. As much as I wanted to jump for joy, I was still holding my breath as you want to make sure you'll be seen. With two hours of makeup application each day of filming, I grew more confident I'd at least be immortalized into the franchise for one or two scenes.
SM: What was it like walking onto that set that first day? To be a one of kind Bounty Hunter was beyond words. To be designed by one of the lead makeup artists for Legacy Effects, Brian Sipe, was priceless. Richard A. Porra was the costume designer. His resume shows his talent and creativity. His eye for Science Fiction Garb is second to none. It was such a honor for my character to be clothed by him.
DP: I had my heart in my throat the first day on set as it wasn't about me. I wasn't the star so you never know if they're going to feature you or not. There was a childhood dream accomplished in that, before I headed to set, I was told to go to the prop table to choose the weapon I think my Bounty Hunter would own. There were about 20 different blasters of all shapes and sizes. Even though the days were going to be long and we had to carry around our firearm, I wanted a big one. I chose a long, semi-automatic which had a paintball canister attached to the back, along with curved dagger attached down by the mag. I loved it.
I walked onto set and all the leaders of the production were there. David Filoni was directing, Jon Favreau supervising. There was a visit from Kathleen Kennedy and George Lucas himself. I just kept quiet and was patient. I was so anxious to make sure I was on camera.
I was happy to have been seen in a few shots that day, but what made the entire shoot special was that I was asked to stay for another episode later in the series. Though I cannot go into detail, I felt the camera on me multiple times for that episode, and that's when I was able to exhale. For any Star Wars fan to have come that far to be cast as a Bounty Hunter, it made you anxious to ensure you would have some screen time. I'm extremely grateful and humbled from this job I can only call a Gift.
SM: What is it about the Stars Wars universe that appeals to you most?
DP: The mythology is what means the most to me. Believing in yourself. The mantra for life in doing your best in anything you wish to pursue.
I also was drawn to family. I had a slightly strained relationship with my father as I'm sure a lot of kids do. I was able to connect to that conflict between Luke and Vader. The parallels to life of father and son not seeing eye to eye. I think that's why we love film. We are able to see a bit of our own life through its' poetry, and Lucas has told many stories through this saga we all can relate to.
SM: Now that you are one of the faces of a Star Wars Bounty Hunter, what do you hope to achieve through this?
DP: I'm greatly looking forward to connecting with fellow fans. To put a smile on the face of people from all walks of life if they meet me. I'm hoping to tour the Comic Conventions and more importantly, get involved with numerous charities where I can donate some signed material in order to inspire and help others. I am so grateful for this opportunity, and I look forward to doing a lot of good with it by paying it forward to those in need.
Learn more about Dominic Pace on IMDB.
https://www.gekkothebountyhunter.com/wp-content/uploads/2019/11/The-Mandalorian-Dominic-Pace.jpg
750
600
admin
http://www.gekkothebountyhunter.com/wp-content/uploads/2019/11/dominic-pace-gekko-bounty-hunter-logo.png
admin
2019-11-25 05:13:51
2019-11-26 19:43:49
Actor Dominic Pace Talks Life, Boyhood Dreams and The Mandalorian