Dominic was kind enough to take some time out of his schedule to chat with me about Bounty Hunter Gekko, his love for Star Wars, what is was like on the set of The Mandalorian , and more!  We are thrilled to have him as our next guest for "10 Questions"

Mark: Most of our readers know you as Bounty Hunter Gekko from Season 1 of The Mandalorian, but you have been acting for a long time and have over 80 IMDb credits to your name, how did you get into acting and what has been your favorite role?

Dominic: I began Studying in 1993 right after High School.  I had the greatest experience starring in my High School Musical, Grease.  The adrenaline rush and the support from my local community gave me the inspiration to pursue the business.  The most meaningful role was receiving my first Guest Star in 2003 on NYPD Blue.  I had stayed focused in my training and submissions for 10 years. It meant so much to me to have had made the 'Big Leagues' on Network Television. Favorite Role/Appearance was 'hands down' The Mandalorian.  George Lucas has been an inspiration to me as far back as I can remember.  To be my own, one-of-a-kind Bounty Hunter Guild Member, is beyond words.
Mark: I did some looking around and found out you've been a lifelong Star Wars fan, what was it like going from a fan to being IN Star Wars?
Dominic: I have been a fan my entire life.  Early on in my career, I remember trying to track down the casting director for the prequels.  All of the filming was overseas so unless you're one of the stars, it was highly unlikely that would ever cast a U.S. citizen.
I was excited yet nervous that first week of filming.  I have been in the game long enough where scenes get cut. As much as it was a dream come true, I was so anxious as I wanted to make sure the world got a good look of this Bounty Hunter "Gekko."  I was so relieved when a trailer came out showing me in a pan shot.  When the series released, it was such a dream come true to see a handful of established shots where Gekko is featured.  I owe so much to Deborah Chow who directed the 3rd episode. 
Mark: The costume for Bounty Hunter Gekko looks massive, how heavy was it and was it tough to move around in it?
Dominic: The entire costume with prosthetics was certainly uncomfortable but it was hard to feel as I had so much adrenaline from the excitement of it all.  Gekko has really thick Gauntlets on his forearms so it was definitely annoying to have heavy sleeves every time you lifted your arms.  Ironically, I was allowed to choose my own blaster and I selected the heaviest and biggest of them all.  Uncomfortable for a couple of weeks for sure, but a small price to pay for a lifetime of priceless memories.

Mark: I know you may not be able to say, but any plans to see Bounty Hunter Gekko in Season 2? He is a cult and fan favorite so we are all hoping he's not dead!
Dominic: Ethan Sacks is heading up Marvel's Bounty Hunter Comic Book Series.  He is waiting approval to include Gekko in that series which would mean the world.  There have also been multiple fan pitches to Lucasfilm and Disney for a Gekko Action Figure.  I cannot say anything on Season 2, but the beauty of the stories is that Star Wars goes backwards and sideways and forward.  If not Season 2, I am very confident we haven't seen the last of Gekko throughout the SW Universe.

Mark: Did you have the opportunity to interact with Jon Favreau at all on set? The few times we have met him, he was always super nice to fans!
Dominic: Favreau personally approved the Gekko costume and makeup.  There were a few nods to him and Filoni, but when there's a 100 plus million dollar budget on their shoulders, it's time to solely do what is asked of you and that is it.  At that professional level, you are invited to keep everything on schedule with little time to socialize.  It was an honor to be amongst them through the production.

Mark: As you know, Star Wars fan are hounds for toys, collectibles, autographs and more.  Where can fans get to meet you and interact? Signings or Photo Ops?
Dominic: I am about to embark on a 17 city tour all over the United States.  Grateful to all of the fans for their support through this journey.  As a thank you, along with participating in multiple charitable causes, I will be signing a complimentary poster at Star Wars Celebration Anaheim for attendees this year.  Gekko merchandise and other autographed prints can be purchased at www.gekkothebountyhunter.com/shop 

(Editor Note – There are some very cool challenge coins for sale at the link above or by clicking below, limited edition, be sure to check them out online, they won't be sold at Celebration)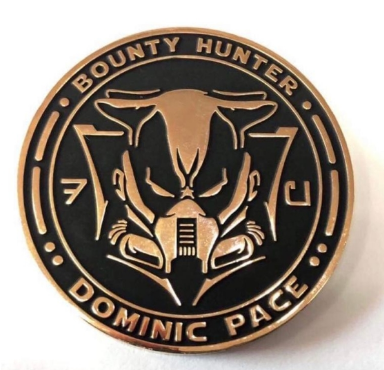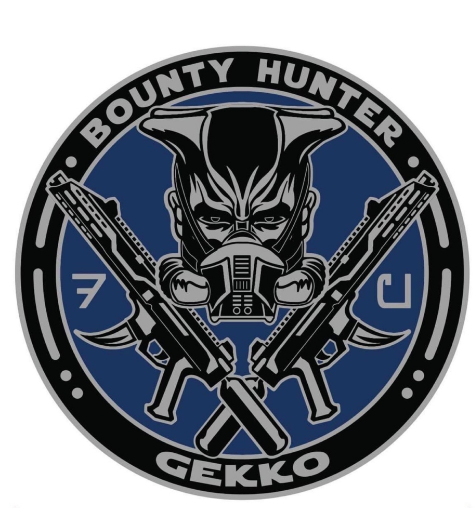 Mark: Can you let us know more about your Make-A-Wish project and how fans can take part?
Dominic: The Star Wars fans/artists have been so incredibly supportive of my character.  Star Wars is the only universe where you can get less than one minute screen time, and become a fan favorite.  I've been so grateful to Jon Favreau, Dave Filoni, Deborah Chow, and Makeup Artist Brian Sipe, I wanted to pay their art and illustrations forward to a good cause. On Sunday, April 5th, there will be 5 winning tickets pulled from this Make-A-Wish raffle in Claremore, OK.  The prizes and entry info are listed here..Thank you to everyone who participate.
Mark: Did you "borrow" anything from the set for your own collection, we won't tell anyone 🙂
Dominic: I wish!  The fans and artists have been amazing so the second best thing has been prop makers recreating my blaster and mask for me.  I did manage to keep some black dirt that filled my boot during episode 3.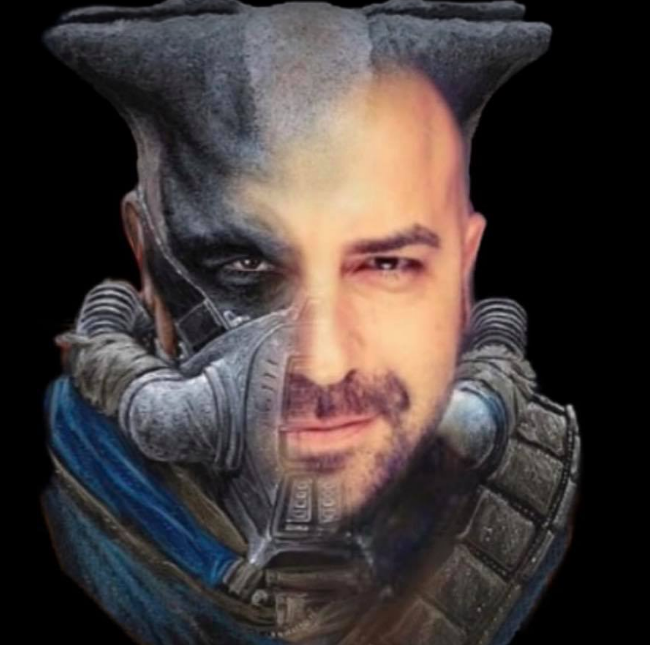 Mark: Can you let us know more about Lair of the Gekko?
Dominic: The Star Wars fans have been amazing.  As soon as I was on screen, the mysticism around the character began to build.  One Wookieepedia admin fleshed out an entire back story for him.  He is a one of a kind species never seen in the Star Wars universe until now.  A member of The Bounty Hunter Guild, I imagine he is held in high regard being that he was closest to Greef Carga during the standoff in Episode 3 of The Mandalorian.  His Blaster is extremely powerful, and his Gauntlets have some special features that I know some writers will explore in their comics and novels.  He did not die in Episode 3.

Mark: We always end with this, what is your all time #1 Star Wars Movie?
Dominic: Episode 5 hands down.  The beauty of Star Wars is about the parallels to life.  Family and believing in oneself.  Episode Five told this perfectly along with the core group of legendary Star Wars actors.

A huge thank you goes out to Dominic for taking the time to chat with us. We can't wait to see what happens in Season 2, you can check out Dominic's signing and appearance by checking out the home page of his site.
https://www.gekkothebountyhunter.com/wp-content/uploads/2020/02/yoda-news.jpg
359
500
admin
http://www.gekkothebountyhunter.com/wp-content/uploads/2019/11/dominic-pace-gekko-bounty-hunter-logo.png
admin
2020-02-04 00:03:07
2020-02-04 00:03:07
10 Questions with Dominic Pace